【APPLY NOW】"workshop for multilingual supporters"
DATE:2022-11-03
We will hold a workshop for multi-lingual supporters/volunteers in Fukuyama.
This is highly recommended for people/volunteers who can make the most of their language skills.

THEME: What is "multilingual supporters"?

This workshop is in easy Japanese.
Time and Date on Sunday, December 4, 2022 from 1pm to 3:30pm
Place:Fukuyama City University
Apply ⇒ https://bit.ly/3SQpWg2
Deadline on Wednesday, November 30, 2022.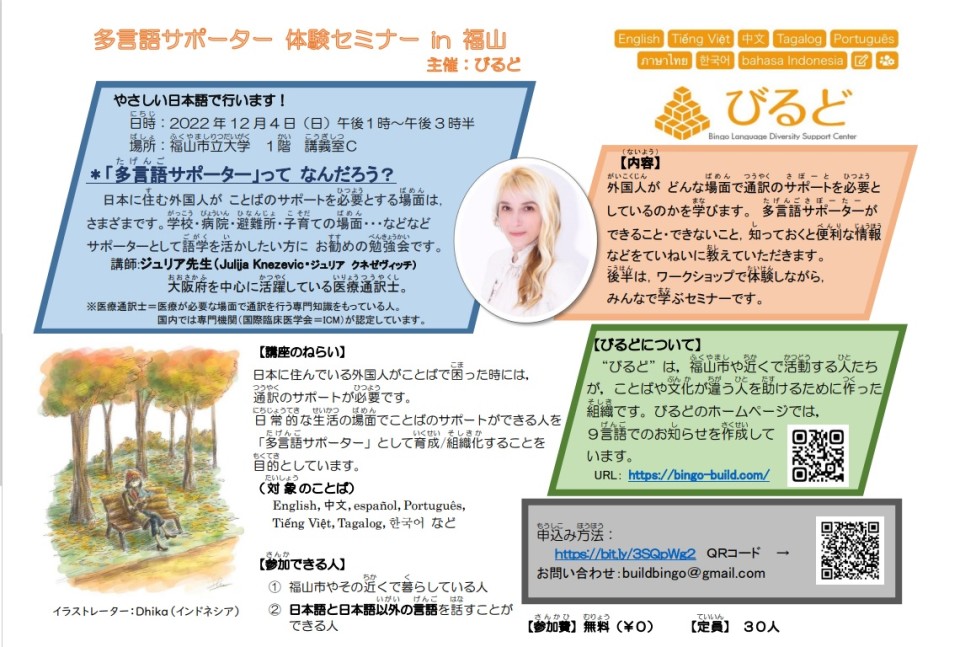 ***** original news in Japanese *****

多言語(たげんご)サポーターの 体験(たいけん)セミナーを 開催(かいさい)します。
サポーターとして語学(ごがく)を活(い)かしたい人(ひと)に お勧(すす)めの勉強会(べんきょうかい)です。

テーマ「多言語 (たげんご) サポーター」って なんだろう?

やさしい日本語(にほんご)で 行(おこな)います
日時(にちじ):2022 年 12 月 4 日(日)PM1:00~3:30
場所(ばしょ):福山市立 大学(ふくやましりつ だいがく)
申込(もうしこみ)⇒ https://bit.ly/3SQpWg2
締切(しめきり):2022年11月30日(水)